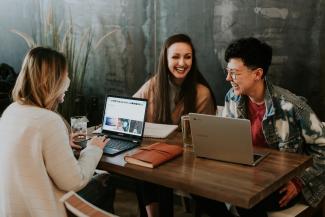 2022 PFG Connect Conference Recap
The Value of Intergenerational Planning and Engaging Next Gen Clients
PFG recently hosted its 5th annual PFG Connect Conference with its biggest turnout yet! PFG financial advisors, office administration teams, and industry partners gathered in Phoenix, AZ, to share insights, best practices, and participate in roundtable discussions. This year's theme was "Intergenerational Planning: A Blueprint for the Future" and focused on helping advisors understand the critical role intergenerational planning plays in both their clients' success and their own.
As we look to the future, it's increasingly important for advisors to have the ability to not only service their existing clients, but help their kids and grandkids build a strong financial future. Establishing roots throughout the client household and helping them create a legacy set both clients and advisors up for longevity and success.
According to the Deloitte Center for Financial Services' "The Future of Wealth in the United States," looking at practice growth rates showed that financial planners with the highest revenue growth rates also serve a higher percentage of younger clients.
The 2015 study estimated $24 trillion in wealth transfer after taxes and charitable giving among spousal, inter- and intra-generational transfers. See the chart below, "Younger Clients' Inheritances are Accelerating."
Despite the opportunity for wealth transfer, however, attracting and engaging those next gen clients can be a challenge. 
PFG always strives to provide advisors with tips and tools to put into practice, so we invited Senior Retirement Strategist for T. Rowe Price and keynote speaker, Michael Doshier, to shed some light on the next generation of wealth. Advisors learned about the next gen's different financial attitudes, needs, and priorities, as well as expectations this group has for financial professionals.
The following is an excerpt of the insights from the T. Rowe Price study, "Prospecting the Next Wave of Wealth," 2022.
Steps You Can Take to Engage Next Wave Prospects
Ask open-ended questions about what keeps next wave clients up at night. Then you'll be in a position to provide behavioral coaching that can help prepare them for eventual market ups and downs.

Look for ways to interact with the next generation. When current clients mention major life events, such as having a new grandchild, proactively offer to be a financial planning resource to the new parents via your current client.
Reframe how you give advice to make it more aspirational and approachable. Highlight the advice you offer that goes beyond saving and investing for retirement and can help clients address both short- and long-term goals.
Develop an elevator pitch you can use with the next wave that demonstrates your ability to serve as a partner and coach.
Review your fee structure and consider offering different levels of service at different price points, including subscription-based models for clients with lower asset levels.
Establish a social media routine, posting insights and commentary regularly—at least weekly—to LinkedIn and Facebook to stay front of mind.
Contact us to learn more about how PFG is helping advisors grow their businesses and prepare for the next wave of wealth.