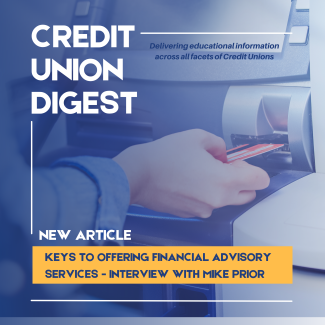 Credit Union Digest Podcast: Keys to Offering Financial Advisory Services with Mike Prior
Credit Union Digest: Keys to Offering Financial Advisory Services with Mike Prior
PFG CEO Mike Prior was featured on the Credit Union Digest podcast, discussing the role of financial advisory services as a natural extension of a credit union's financial education mission. Further, these services present an opportunity to deliver more personalized services to members, as well as build or expand a credit union's income stream, noted Larry Grant, Credit Union Digest managing editor. 
In the interview, Keys to Offering Financial Advisory Services, Mike discusses the types of challenges credit union leaders face such as recruiting quality advisors, starting an investment services department or transitioning an existing department to a true third-party Registered Investment Advisor (TP-RIA) platform. Mike offers keys to elevate the member financial planning experience and nurture the advisory-member relationship:
Have a multi-custodial platform with brands that resonate with investors (such as Schwab, Fidelity, Asset Mark) and are both low-cost and high-tech.

Focus on intergenerational planning. By providing financial education to younger members, credit unions can play a central role in the transfer of wealth from one generation to the next.

Provide digital advice such as video planning and robo-advisory solutions, to attract and retain younger members sooner. 
Listen to the interview for more insights on how credit union leaders can grow their wealth management departments. For further consultation on taking your Wealth Management department to the next level, contact PFG today at 1-800-405-8850 or reach Mike directly at priorm@pfgteam.com.