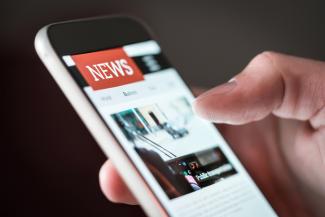 Scottsdale Independent: Local firms team up to cultivate financial literacy, Oct. 9
You can also read the article as originally published in the Scottsdale Independent
By Cyrus Gucionne
Financial literacy isn't just about investment management and understanding the stock market, it's about making good decisions.
That's according to Mike Prior, founder and CEO of the third-party registered investment advisory firm, Priority Financial Group. His firm recently announced a three-year partnership with the Scottsdale-based Financial Planning Association of Greater Phoenix (FPAGP), to train and develop its approximately 400 certified financial planner professionals.
With Priority Financial Group's training, talent and financial support, FPAGP's certified financial professionals will cultivate strong financial literacy not only for themselves but for their clients as well.
"This was really a combination of all of our visions coming together," Prior said, who founded Priority Financial Group in 2005. "I've always been wired to make sure that we're giving back through organizations who are full-time dedicated to advancing financial literacy and financial advisors.
With more than 25 years of experience in the securities industry, Prior is sought-after by financial institutions to lead in the adoption and implementation of successful investment service programs.
Prior said the role of behavioral finance -- the study of how psychology influences investor behavior -- is overlooked in many financial institutions and can help financial professionals "plan beyond the noise" of daily market news.
"Hiring a good financial advisor and getting good counsel is not an expense, it's an investment," Prior said. "That's why I'm proud to be a part of the Financial Planning Association that helps people reach their goals."
Dale Walters is the president of the FPAGP board. He is also excited about a partnership that will empower future financial professionals.
"Priority Financial Group serves as a catalyst in our efforts to foster awareness and advance the profession," Walters said in an official statement. "Becoming a professional in our industry requires more than number crunching. People skills, leadership skills, empathy and patience -- these aren't taught in textbooks, but learned when we come together as a community and deliver the resources our members need to best serve their clients."
Priority Financial Group has a nationwide network of financial advisors, 45 of which are located in Arizona. Combined, the PFG team of financial advisors serves nearly 22,000 clients.
Priority Financial Group is separately partnered with Junior Achievement of Arizona (JA), a program that Prior was part of at a young age. JA aims to teach students the importance of how to manage their money and be ready to enter the workplace.
"I was a Junior Achievement kid, and I give them a lot of credit," Prior said. "They helped inspire me to be an entrepreneur and learn about business and finance."
With the partnership's three-year time frame, Prior said the option to renew is always available.
"Assuming everything goes well, at this point, I would suspect we would," Prior said.
For more information about Priority Financial Group, visit pfgteam.com. For more information about the Financial Professional of Greater Phoenix, visit fpaofphoenix.org.
___________________________________________________________________________________________________________________
CU Management: Enhancing Your Wealth Management Program's Digital Presence, Oct. 2
You can also read the article as originally published on CUManagement.com
By Mike Prior
5 tips to help members with their investments and insurance needs during Financial Planning Month
This is the third in a three-part series to help prioritize issues facing credit union leaders, offering actionable tips to help grow your Wealth Management department. 
In today's digital age, there's never been a better time to expand your reach and promote your wealth management services to a broader audience. Through your website to social media and your digital banking to mobile app experiences, you can enhance your digital presence to stay in front of members and connect with potential clients seeking expert financial advisory and wealth management services.
In our conversations with credit union executives, promoting wealth management across digital channels is a common theme, particularly the credit union website as it's often the first point of contact for potential clients.
In fact, we explored this topic at our recent Executive Advisory Council (EAC) meeting, an annual event we organize that brings together credit union executives to discuss the state of their wealth management departments as well as ways to build and elevate their programs.
Here are some valuable tips and considerations, the key takeaways, and best practices from the EAC meeting—discussed by credit union leaders themselves—to help credit unions enhance their digital presence to reach more Members:
Showcase Wealth Management on Your Website: Though this seems obvious, you'd be surprised by the number of websites that "bury" their wealth management services, making them difficult to find. Now is the time to clearly showcase your wealth management services on your easy to navigate, mobile responsive sites. Provide relevant information as well as compelling calls-to-action (CTAs) that encourage visitors to learn more or contact your experts.
Consider other Names for "Wealth Management": Does this term convey that these services are "only for the wealthy"? Other terms to consider that may appeal to a broader audience, as discussed by credit union leaders, include "Invest and Insure" and "Wealth Planning."
Create High-Quality Content: Include financial planning and wealth management topics as part of your content strategy, i.e., blog posts, videos, "get to know" financial advisor features, infographics, etc.  Address common financial concerns and provide investment insights with relevancy and timeliness. (Financial Planning Month is in October!) High-quality content not only establishes your credit union as a trusted source of advisory knowledge, but also it improves your search engine ranking.  
Address Life Stages: Present compelling content by appealing to clients' life stages. Whether they're just getting started in their careers and 401(k) plans, buying a first home and learning to budget a household, building wealth, or planning for college or retirement, address life stages with impact and relevancy. 
Retarget and Deploy Online Advertising: Retargeting ads can remind users who have visited your website about your wealth management services, encouraging them to take the next step. Also, if you don't already, utilize targeted online advertising to reach specific demographics interested in wealth management.
Remember that consistency and integration across all digital platforms are key in maintaining a strong digital presence. (I'll save the importance of monitoring and analyzing performance for another post!) By implementing these strategies, you can effectively promote your wealth management services across digital channels and establish your credit union as a go-to, trusted source for financial expertise.
Mike Prior is the CEO of Priority Financial Group, a third-party registered investment advisor (TP-RIA) serving credit unions and financial advisors. He has decades of experience in the securities industry, as well as dedicated expertise helping financial advisors and credit unions achieve their unique goals. Mike is a pioneer in introducing the Charles Schwab and Fidelity advisory platforms to credit unions, and a recognized industry expert in implementing a best practices approach to taking credit union investment programs and advisor practices to their next level. For more information, visit Pfgteam.com, call 800.405.8850 or contact Mike directly at Priorm@pfgteam.com.
Investment advice offered by PFG Advisors.  Securities offered through Securities America, Member FINRA/SIPC.  Insurance products offered through Securities America or its licensed affiliates.  Priority Financial Group and Securities America are separate entities.